Mennonite Historical Society
of British Columbia
MHSBC is a community-funded organization, and we depend on your support. Your donation helps preserve our Mennonite stories and heritage for future generations. Funds are used to keep our archives open to public users; upgrade equipment; support our few staff members; bring you the latest research on Mennonite history through the Roots and Branches newsletter; and to sponsor special events.
You can make your donation online to MHSBC with our convenient online PayPal feature.
Sponsor an MHSBC Event
If you, your group, or company is interested in sponsoring an MHSBC event,
please contact us at MHSBC Archives, or 604-853-6177.

Sponsorship Details
Thank you to our sponsors:
Gold Level: Peter & Erna Letkeman, Anonymous Donor, Jake & Katy Wall Family;
Bronze Level: Blue Continent Transportation Ltd.
MHSBC Offices: 1818 Clearbrook Road, Abbotsford, B.C. V2T 5X4

At the Mennonite Heritage Museum
See the MHM website at: www.mennonitemuseum.org.
For Mennonite Events across Canada check out the Canadian Mennonite website.
MHSBC Future Events
Important MHSBC Events planned for 2020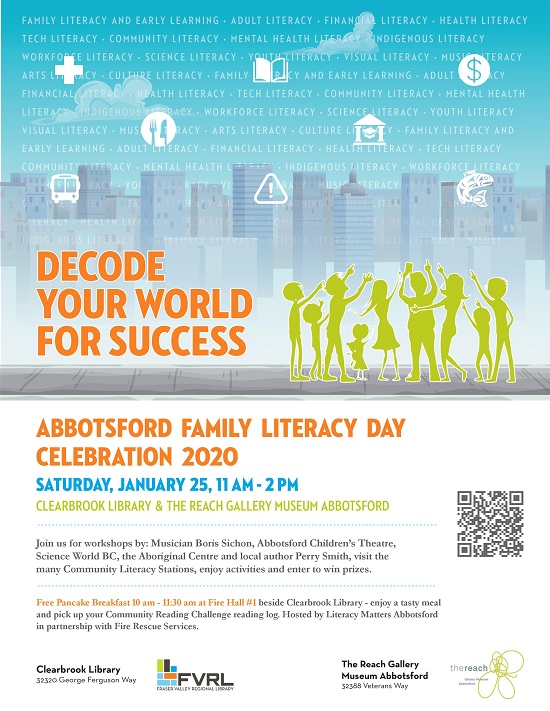 Visit the MHSBC booth at the 2020 Abbotsford Family Literacy Day Celebration!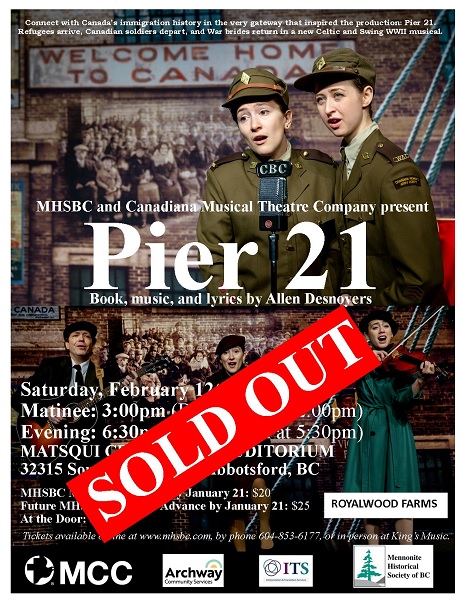 Ticket information and details about this exciting event will appear here soon!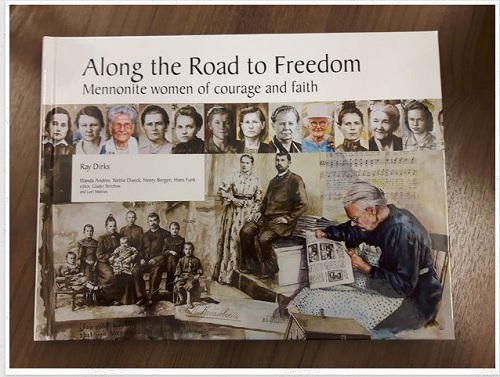 The book Along the Road to Freedom by Ray Dirks is available in the MHM Bookstore.

Our popular gallery exhibit "Along the Road to Freedom" is now available in book form.
We have copies available for sale in our bookstore!

Events at the Mennonite Heritage Museum
Important Museum Events for 2019
The Mennonite Historical Society of BC was formed in 1972 as a non-profit society to:


| | |
| --- | --- |
| | collect and preserve valuable historical records |
| | foster awareness of Mennonite history and culture |
| | fund research projects related to Mennonite history |
| | sponsor programs and events which communicate our history and culture |
| | assist in publishing writings and books related to the above |
Pay for your MHSBC membership using our convenient PayPal feature.

Become a MHSBC member, volunteer, donate to MHSBC online: MHSBC Membership Form.
Address:
Mennonite Historical Society of BC
1818 Clearbrook Road
Abbotsford BC V2T 5X4
Phone:
604-853-6177
Fax:
604-853-6246
Email:
General Inquiries: MHSBC Archives
Genealogy: MHSBC Genealogy
Hours:
10:00 am - 4:00 pm, Monday - Friday
(except statutory holidays)
See the Future Events for ALL new events.
Like us on Facebook

Post a comment on MHSBC's activities,
or a comment and photograph relating to Mennonite History.
MHSBC is dependant on donations to support its operations. Tax-deductible receipts are provided.
Mennonite Historical Society of BC, c2001 All Rights Reserved

Comments regarding the web site can be directed to Webmaster