Mennonite Historical Society
of British Columbia
MHSBC Offices: 1818 Clearbrook Road, Abbotsford, B.C. V2T 5X4

At the Mennonite Heritage Museum
See the MHM website at: www.mennonitemuseum.org.
Arc of Memory Design selected for the Memorial to the Victims of Communism
— Canada, a Land of Refuge.
It will be built on a site on the west side of the Garden of the Provinces and Territories in Ottawa.
Government of Canada Press Release.
For Mennonite Events across Canada check out the Canadian Mennonite website.
The Mennonite Historical Society Offices will be closed for Easter, March 30 to April 1, 2018

Our AGM is coming up in April! Mark your calendars! Everyone welcome,
though only members can vote.
Please attend! You will hear the reports, there will be discussion and a vote.
Become a member to get your voting card for the AGM.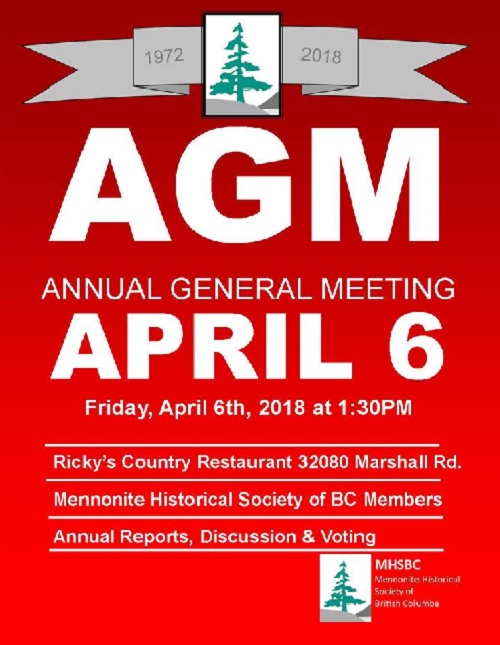 MHSBC Future Event
"Moving from Fear to Gratitude: Mennonite Immigration to Canada after WWII"
Date and location yet to be determined.
Watch for further details!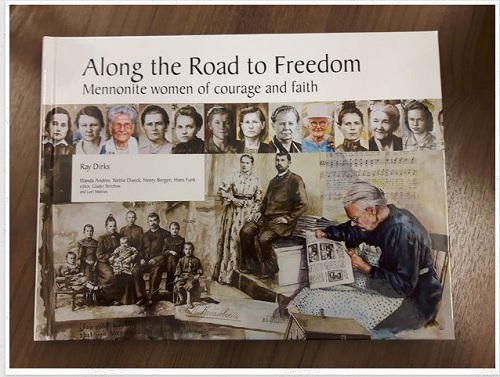 The book Along the Road to Freedom by Ray Dirks is available in the MHM Bookstore.

Our popular gallery exhibit "Along the Road to Freedom" is now available in book form.
We have copies available for sale in our bookstore!

MHSBC presents the BC Premiere of the film: "Seven Points on Earth : A Film Depicting
Seven Mennonite Farming Communities Around the World" at Matsqui Centennial Auditorium.

Feature Presenter: Paul Plett, Film Producer. Sunday, May 6th, 2018 7pm

The trailer for the film is available at: https://vimeo.com/221901713.
You can purchase tickets online for $10.00 each with our convenient
online PayPal shopping cart.

Purchase Tickets With PayPal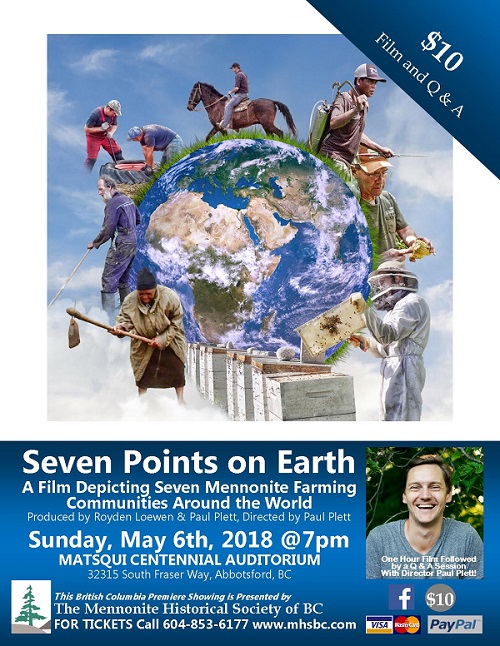 The Mennonite Historical Society of BC was formed in 1972 as a non-profit society to:


| | |
| --- | --- |
| | collect and preserve valuable historical records |
| | foster awareness of Mennonite history and culture |
| | fund research projects related to Mennonite history |
| | sponsor programs and events which communicate our history and culture |
| | assist in publishing writings and books related to the above |
Pay for your MHSBC membership using our convenient PayPal feature.

Become a MHSBC member, volunteer, donate to MHSBC online: MHSBC Membership Form.
Address:
Mennonite Historical Society of BC
1818 Clearbrook Road
Abbotsford BC V2T 5X4
Phone:
604-853-6177
Fax:
604-853-6246
Email:
General Inquiries: MHSBC Archives
Genealogy: MHSBC Genealogy
Hours:
10:00 am - 4:00 pm, Monday - Friday
(except statutory holidays)
See the Future Events for ALL new events.
Like us on Facebook

Post a comment on MHSBC's activities,
or a comment and photograph relating to Mennonite History.
MHSBC is dependant on donations to support its operations. Tax-deductible receipts are provided.
Mennonite Historical Society of BC, c2001 All Rights Reserved

Comments regarding the web site can be directed to Webmaster