Mennonite Historical Society of British Columbia Presents
Future Events
| | | | | |
| --- | --- | --- | --- | --- |
| April 14 - Sunday 2:30pm | Level Ground Church | "Searching for an Identity: Mennonites in Revolutionary Russia" | with Aileen Friesen | Special music. FREE |
| June 2 - Sunday 2:30pm | King Rd MB Church | "Immigrant Trauma & Finding Belonging in Community: The Story of the Post WWII Mennonite Refugees" | with Marlene Epp and Paul Born | Faspa and special music. $15.00 |
| October 5 - Saturday 7:00pm | Abby Arts Centre | "Menno-Comedy-Nite" | with Matt Falk | $35.00 |
"Moving from Fear to Gratitude: Mennonite Immigration to Canada after WWII"
Date and location yet to be determined.
Watch for further details!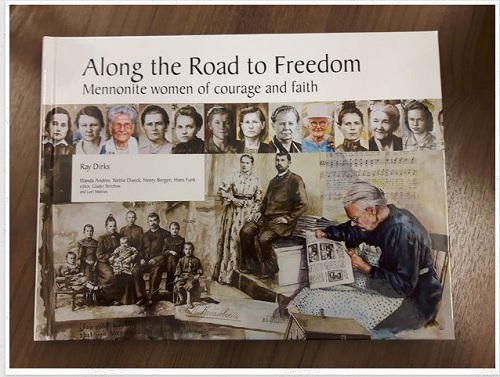 The book Along the Road to Freedom by Ray Dirks is available in the MHM Bookstore.

Our popular gallery exhibit "Along the Road to Freedom" is now available in book form.
We have copies available for sale in our bookstore!

Events at the Mennonite Heritage Museum
For more information please contact:
Mennonite Historical Society of BC
1818 Clearbrook Road
Abbotsford BC V2T 5X4
E-Mail: archives@mhsbc.com
Telephone: (604) 853-6177